Win The Battle of The Bulge

Every year you vow to lose weight, and every year your clothes feel as if they've shrunk. Fad diets don't cut it, hypnotherapy puts you to sleep and exercise bores you (why sweat when you can veg in front of the tube?). Better call The Weight Manager, whose sole goal is to help you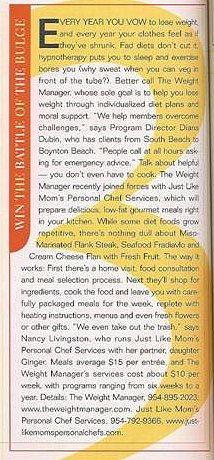 lose weight through individualized diet plans and moral support. "We help members overcome challenges." says Program Director Diana Dubin, who has clients from South Beach to Boynton Beach. "People call at all hours asking for emergency advise. "Talk about helpful - you don't even have to cook. The Weight Manager recently joined forces with Just Like Mom's Personal Chef Services, which will prepare delicious, low-fat gourmet meals right in your kitchen. While some diet foods grow repetitive, there's nothing dull about Miso Marinated Flank Steak, Seafood Fra Diavolo and Cream Cheese Flan with Fresh Fruit.

The way it works: First, there's a home visit, food consultation and meal selection process. Next, they'll shop for ingredients, cook the food and leave you with carefully packaged meals for the week, complete with heating instructions,menus and even fresh flowers or other gifts. "We even take out the trash." says Nancy Livingston, who runs Just Like Mom's Personal Chef Services with her partner, daughter Ginger. Meals average $15 per entree and The Weight Manger's services cost about $10 per week, with programs ranging from six weeks to a year.

Details: The Weight Manager, 954.895.2023, www.theweightmanager.com.
Just Like Mom's Personal Chef Services, 954.581.5346, www.justlikemomspersonalchefs.com.